No more painful production debugging.
LeanSentry uses expert diagnostic techniques to automatically troubleshoot your apps.
Set it up now ...
and get an automated expert on your side.
Catches hangs, errors, memory leaks
as soon as they happen.
Automatically troubleshoots them for you.
Improves your awareness
of website health and performance.
---

How it works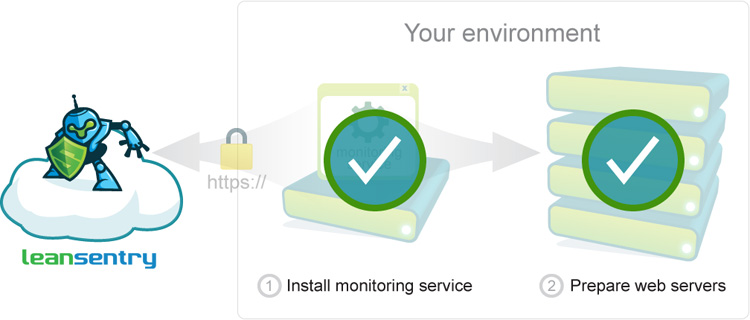 LeanSentry watches your IIS web apps using low-overhead Windows protocols, and sends performance data to our cloud service for analysis.
When problems are detected, LeanSentry automatically diagnoses them using a variety of available data and expert debugging techniques.
You'll need:
IIS 7.0+ on Windows Server 2008+ / Windows Vista+
.NET Framework 3.5+
Outgoing network connection to our service. We never open ports to the internet or connect into your server from the outside.
---
SAFE for production environments
LeanSentry was made for safe and low-overhead production monitoring.
Uses lightweight and non-intrusive monitoring protocols like IIS logs, EventLog, and ETW traces.
Collects only non-sensitive performance data. No PII, application code, data, or files.
Connects securely to our cloud service over bi-directionally authenticated HTTPS.
Automatically throttles down or turns off in case of high resource use.
---